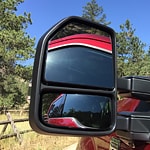 Does your job require you to transport heavy supplies? Do you need to tow a fifth-wheel camper? When toughness matters, it's hard to beat the Ford Super Duty. Rugged and strong, this popular heavy-duty pickup has what it takes to go the distance.
When it comes to strength, the Super Duty shines. The secret is the frame. It's constructed with 95 percent high-strength steel. Add in the fully boxed design, and you have a foundation that's both strong and rigid. Load up construction materials or pull a full-size trailer — the Super Duty frame won't flex or twist.
Dents and dings are inevitable when you live a full-out lifestyle. That's why the Super Duty is made with a military-grade aluminum alloy. Remarkably durable and resistant to indentations, this material keeps your truck looking its best. Call Faith's Ford to schedule a test drive in Brattleboro today.