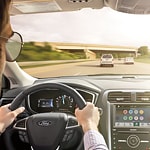 There are a lot of cars on the market, and plenty of them are touting their abilities to perform. However, a lot of their claims might not be very accurate under even the littlest bit of scrutiny. That's why here at Faith's Ford, we make an effort to find the vehicles that will truly work for you - mid-size sedans like the Ford Fusion are a good example, especially when it comes to performance.
The Ford Fusion comes with performance features like the 2.0-liter Atkinson-cycle engine, which can deliver quite a bit of horsepower for a vehicle of this size. With some impressive gas mileage and intelligent all-wheel drive, the Fusion definitely feels like performance was one of its designers' type priorities.
If you want to see for yourself what the Ford Fusion is capable of, then come by Faith's Ford to take this mid-size sedan out for a test drive!