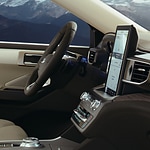 Just one look at the newly redesigned Ford Explorer should leave you amazed. This is a popular three-row SUV that just continues to get more convenient and fun to drive. You will easily be able to fit your family of seven inside this tremendously versatile and durable SUV. Check out these design features to whet your appetite.
The interior of the Ford Explorer now has even more elegant seats than you could imagine. Each seat has a leather surface for added comfort. This also looks great, complete with the micro-perforation and accents that have been stitched into the design of the seats themselves.
You will also find that the new Ford Explorer has an available feature that will fold down the third row of seats for you automatically. This is great when you do not need room for seven people but could use the extra space for cargo. Try it out when you visit Faith's Ford for a test drive.